Nick Hilton spent the week at Molyneux in September and did a cracking informative write-up. 
After spending a week at Molyneux in France with Wally and Helen, I thought it would be nice to write a short review to try and help promote their lake as it really is a hidden gem that could always do with more people knowing about and trying to spread the word of the great work they are doing over there.
Molyneux is a 13 acre lake situated in Normandy which took us about 3 hours to get to from Calais (not counting the small deviation – French for diversion – that got us lost in Rouen but that's another story). This lake is absolutely stunning in every sense of the word with beautiful willows, pines, and birch trees lining the lake and the islands with lots of soft fruit foliage lining the borders to keep the lake self-contained and secure.
With 2 islands at one end of the lake, this gives most of the swims something to aim for and from what we found the island margins appeared to be the one of the patrolling routes for the fish as most of my fish came to baits planted by bait boat just under the protruding trees but not too tight that the fish needed to climb up the bank to get to it.
The lake itself has 10 swims and allowing 8 anglers and gives everyone loads of room to spread out and not disturb anyone else's fishing, Wally is currently in the process of upgrading all the swims to make them more comfortable, spacious and safe and has already completed Jacks Swim and the Double swim giving a nice shingled area for you to set up but do note the ground is mainly flint so be sure to take good bivvy pegs and a club hammer (and make sure not to hit your thumb like i did).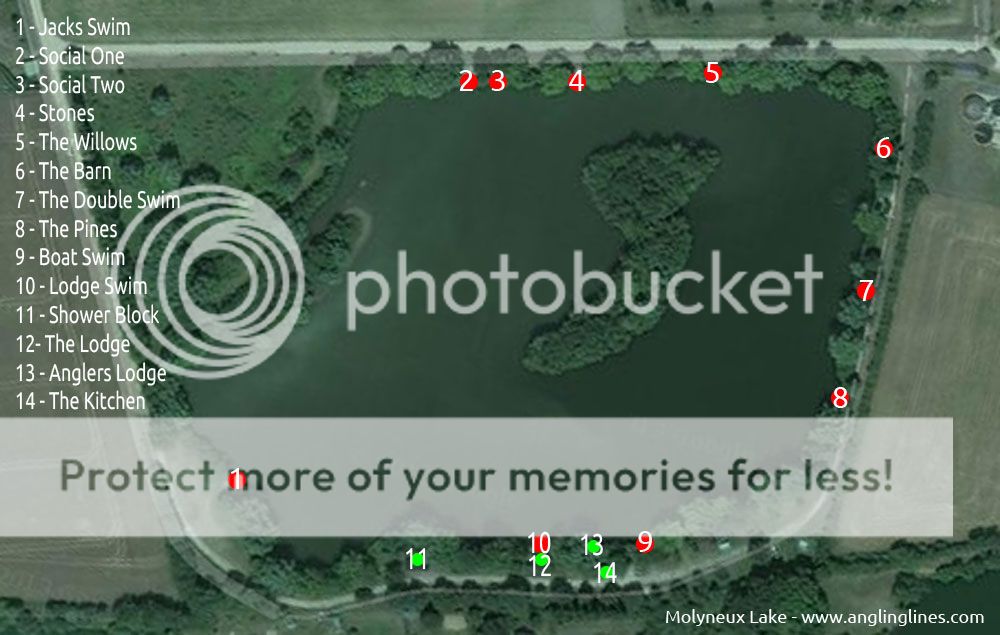 As far as I'm aware the Lodge Swim is next and I imagine there will be maybe another 1 or 2 swims if we are lucky to be completed this winter, in saying this the current swims are fine and ideal to fish from but by the time they have worked their magic on the lake it will just add to the quality of the fishery.
Wally & Helen have only been running this lake for 3 years and I am told the work they have already done to bring this lake up to speed is outstanding, with the general maintenance of the grounds and refurbishing the lodge, the shower block, the anglers cabin, and Helens little kitchen that she manages to provide such excellent food with.
Colin and I fished in September this year (2013) and had a nice week with excellent hosts and good fellow anglers (from up north) (Tim, Giz, John, Chris) who were a great bunch and would be pleased to meet up and fish with them again.
On to the finer points of the lake, As far as we know on the carp side of things there are 18 known forty's in there and (estimated) over 100 thirty plus fish with an unknown figure around the twenty plus range of the mirror / common / grass variety and cats going up to 70lb giving a great head of fish for such an intimate personal water.

Colin with a mid 20
Nick with a 40 

Everyone loves an action shot! – Colin connected with one of the Molyneux fish

The facilities are kept and clean and tidy with the shower block comprising of toilets one side and showers the other and i must mention in Colin's words that they were the best showers he has ever come across in all of his years carp fishing in France and he is a veteran angler with over 20 years experience alone fishing untold amounts of waters, The showers were powerful and hot which is just what you need after living on the bank handling fish and starting to smell like a badgers armpit.
With Molyneux there is an option to hire the lodge for your weeks fishing for those that are past sleeping in the bivvy or want to bring the wife who doesn't want to live in a bivvy for the week, The lodge is ideal with a double bed and 2 single beds with TV & cooking and living facilities not that you would want to cook with Helen providing such excellent food but we will come back to that later.
The lodge is charged at an additional rate on top of the fishing and you can get the pricing from Angling Lines. The lodge comes with its own private swim so you can lounge around for the day waiting for your alarms to bleep and catching the magical fish that dwell in the lake whilst lavishing in the home comforts..
More images can be found here…. https://www.anglinglines.com/Molyneux/accommodation
The Anglers cabin was perfect and well suited for its use comprising of a small dining area for when the weather isn't favourable seating 8 anglers and in the other half of this building was the charging area for boats and mobile phones and i even spotted someone's rechargeable electronic fag!  The charging area is all wired in English sockets so no need for travel plugs and such and it is simply a case of plug and charge at no extra cost.
The outside seating area for where we could have our dinner on the good days was simply a couple of picnic tables which gave adequate seating for us all right outside Helens little kitchen, to be fair Helens kitchen is ok but I'm sure she would like a nice upgrade with new appliances and more work space but all in good time I'm sure it will happen. It would be good to see wally put a little shed on the site which would service all of the tackle needs for bait and leads and bits and bobs this would enable Helen to move this stuff out of their kitchen which to be fair looks like the headquarters of the lake, this would also give wally a man cave to keep all of his fishing gear in but Rome wasn't built in a day.
The food package was superb, all home cooked English food served with as many cups of tea as you could drink with breakfast and beers and wines served with the evening meal (all at no extra cost I might add)
Each meal was discussed the evening before with Helen making sure that everyone was catered for and that any fussy eaters were not put off by having food served up that they wouldn't eat. I will add at this point that Colin (and the rest of us) was thoroughly amazed with the food and was biting at the bit to get down for his meals each day.
Saturday – Bolognaise & pasta
Sunday – Roast with all the trimmings (no yorky puds tho)
Monday – Chicken Goujons, Chips & salad
Tuesday – Cottage Pie, veg n spuds
Wednesday – Roast again (this replaced the quiche by popular demand)
Thursday – Home made chicken pie (with puff pastry MMMmm )& veg
Friday – Burger & Chips [ and salad again  ]
On to the most outstanding aspect of the fishery…………………………The Hosts!!
Wally & Helen are such fantastic friendly people who will make your week in france more enjoyable than any other lake.
Helen is like the Mother to all Carp anglers and I can see she treats all the people that fishes Molyneux as her lads (and lasses), Helen is there at the crack of dawn pottering around in the kitchen preparing breakfast & dinner for the hungry carp anglers and also making sure she does not miss out on the fuss pots who might not like a breakfast and just want bacon sandwiches every day, The reality is nothing is too much trouble for Helen and she will accommodate as best as she can where possible and make sure no one goes without, We were also told that if we have any wet clothing that it should be put in the tumble drier so we are all warm and cosy!! The last thing Helen wants is you being cold and miserable.
As for Wally He is always there at breakfast armed with the kettle at the ready waiting to put a tea or a coffee in your hand when you arrive, a fantastic guy with many years of carp angling experience under his belt and as you will see on arrival he has an excellent mountain of knowledge in his head ready to share with you on the lake itself. Again at dinner time Wally is there waiting with a beer or a glass of wine while you sit and relax while he takes the fish counts of the day into the diary before dinner. Wally will always be there to assist you in your trip and will take your baits out in the boat and place them strategically for you and will also be available to help you should you need it with landing and photographing fish.
I must admit I was fascinated by Wally's stories and the experiences he has endured in his carping career and even more astounded at some of the horror stories we were told of things he has had to endure while running Molyneux.
While I'm at it I must not forget the kids!! Rudy & Mable are always rucking and providing entertainment.

As a foot note to this I would like to applaud you both for the lifestyle you have achieved and would swap with you in a heartbeat!!
The moral of this story is get yourself booked for what I call more than a week's carp fishing in France with the loveliest hosts I have ever had the fortune to meet.…..
Best wishes Nick & Colin